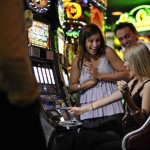 Anne Hidalgo, the PS mayor of Paris, admits not being very favorable to the opening of casinos in the city of Paris, relatives find it impossible to vote the creation and the right to operate casinos in the Council from Paris. Itself has no desire to get into a fight as adventurous.
President Morizet Nathalie Kosciusk- UMP s' There is also opposed to financial reasons knowing moreover that there already has a casino in the Val d'Enghien gaming circles Oise.Les emerged in 1920 together the prohibition of casinos in Paris, but this activity has proved non-profit in recent years, the crisis has also indirectly affected gaming circles, since 2008 eight circles were closed ten existing and enjoying government approvals.
 The current leadership in power rejoice at the idea that you can recover 80 million euros a year with the opening of Parisians casinos. the interior minister, Bernard Cazeneuve, wants to open one or more casinos in the capital, the best solution to avoid more or less illegal gambling dens he says. Mr Cazeneuve seeks martingale winning the Jackpot. They come out games circles winners of this part of tussle they could also lose everything on that Banco.
The losers may be as casino near Paris as Forges-les-Eaux or Trouville and Deauville even that count every week hundreds of Parisians come to quench their thirst in the game.
Many voices have been raised against this project, including the circles of games that would modernize their facilities with table games, English roulette, blackjack …
Circles are currently the only places in Paris now allowed to accommodate lovers of poker or baccarat. Gaming circles are on suspicion and even accused of links with organized crime and politicians are not inclined to offer an additional windfall revenues.
Casino operators are leaving one of the leaders of the Partouche group, also president of the Union of casinos. Paris is one of the last European capitals not to have casino. This is absurd! We lost a customer for the benefit of London. Maybe can do we recover some.
Anyway license if there will be offered to large already existing group as group Barriere, Tranchant or Partouche.
Assistant to the Mayor of Paris, Jean-Louis MISSIKA, in charge of urban planning, architecture, Grand Paris.Veut project why a casino at 100 km it is moral and a casino in Paris would not ".
Let's see what adventurous fighting materialize!